Emergency Board-Up Services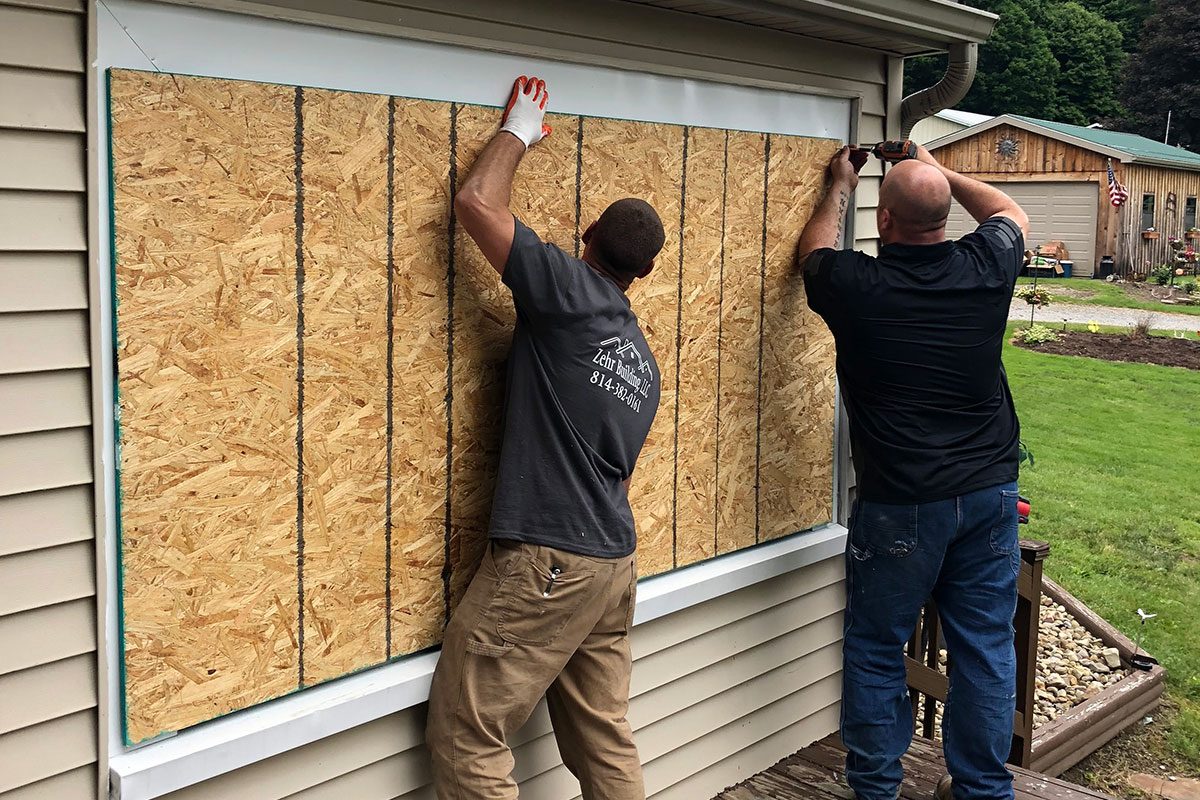 Looking for an emergency board-up company? Zehr Restorations provides a 24-hour board-up service to homeowners and businesses. As part of our complete damage restoration services, we can protect your home or business from further damage.
When your property is damaged by storm, fire, flood, or vandalism, you want to secure it immediately from further damage from the weather or thieves. Boarded-up windows and roof tarps temporarily stop the water damage until your residence can be rebuilt.
Board-Up Services after Fire Damage
Zehr Restorations provides emergency board-up service after structure fires. If the fire burns through a roof, the building may suffer water damage from rain or snow. Firefighters may remove windows and cut large holes in the roof to allow the smoke and heat to exit the building, and those openings also expose your home to more damage from weather. Boarded-up windows and heavy-duty roof tarps can prevent further damage to your home.
An electrical fire in this home near Saegertown, PA, caused extensive damage. The homeowners asked Zehr Restorations to board up the windows and tarp the roof to protect the building and its contents until it could be restored.
When fire destroyed a multi-residential apartment building in Meadville, PA, the owner called Zehr Restorations to add a security fence. Our crew installed a simple construction barrier to keep onlookers at a safe distance while demolition crews worked on the site.
Emergency Board-Up Services after Storm Damage
Strong winds can tear shingles or metal sheeting from a roof, opening the building to rainfall or snow. A windstorm may topple a tree onto a roof. Zehr Restorations is equipped as a 24-hour emergency board-up service to prevent further damage to your building.
When an F2 tornado devastated this home in Williamsfield, Ohio, Zehr Restorations provided emergency board-up and roof tarp services. Over the next months, we rebuilt the family's home.
Need an emergency board-up company? Call Zehr Restorations!